Our founder
SJOG is inspired by our founder's drive to 'do good'. We follow his example and continue to add new stories to his 500 year legacy.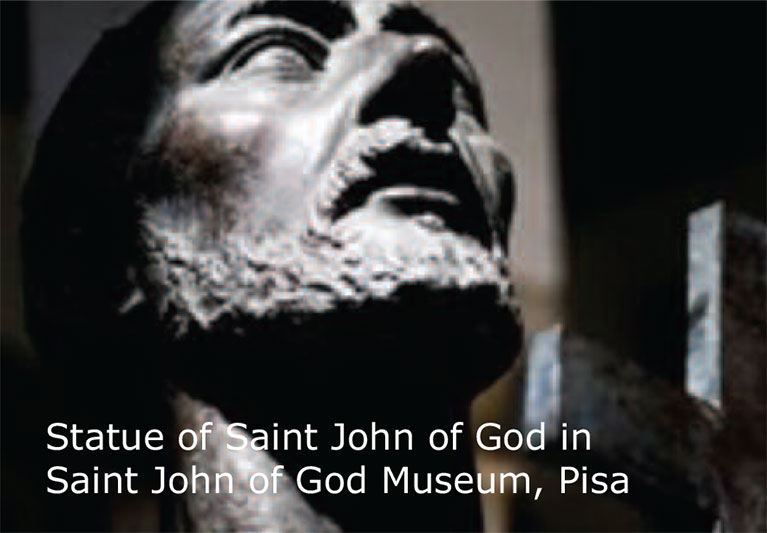 Saint John of God
Born in 1495, João Cidade dedicated his adult life to the care of the poor and sick, creating hospitals that changed the medical practices of the day.
Having experienced at first hand treatment for mental illness, he fought to change the practice, so that people were treated with love and compassion.
He looked after people no one else would and people soon followed his way, the Hospitaller way.
His following grew into a religious order and a worldwide movement. SJOG is inspired by the drive of our founder, Saint John of God, to 'do good'.
We follow his example and every day we continue to add new stories to his 500 year legacy.
---
Our history

The Brothers of the French Province of the Hospitaller Order of Saint John of God are invited to take possession of buildings in Scorton, a small village in North Yorkshire, with the intention of creating a foundation for 'unwanted people', 'cripples and incurables'.

The first patient is received into the new foundation, Thomas Wilkinson was blind, and without hearing and speech.
By the end of the first year the hospital was caring for 15 patients, in five years this grew to 96.

A new hospital with accommodation for 200 patients is built on the land at Scorton and came to be known as Saint John of God (SJOG) Hospital.

The Irish and English Brothers separate from the French Province to become the Irish-English Delegation.

At the request of the Archbishop of Westminster the Brothers open Barvin Park in Potters Bar, Hertfordshire – 'a colony for Catholic adult male mental defectives and epileptics'.

The Brothers take over the running of Wiseman House at Walthamstow in London - an orphanage for boys between 11 and 15 years of age.

Also in the London, the Brothers assume the management of the Blessed John Southworth Hostel in Vauxhall Bridge Road.

The Irish-English Province divides, with England becoming a viceprovince and later to be raised to the status of province in 1953.
The hospital in Scorton is successful in its application to establish a surgical ward and the first major operation was performed in July of that year.

The General Nursing Council approves the hospital to be part of the training for State Registration in Nursing.

A new foundation is established in Silverdale, Lancashire which was a hospital for the chronically sick.

The Brothers of the English Province meet with the Bishop of Lusaka and begin work, alongside the Franciscan Sisters, to open Northern Rhodesia's (now called Zambia) first psychiatric hospital. This was a huge undertaking for the Brothers: cultures to overcome staff to engage, languages to learn.

The Brothers begin nine years working with the Sisters of Our Lady of Africa in the leprosarium at Mua, Ntkataka in Malawi.

By the mid-60s SJOG hospital in Scorton is providing a wide range of services. In addition to the operating theatre and x-ray department, the hospital is specialising in psychiatry, geriatrics, neurology, occupational therapy and physiotherapy.

The Archbishop of Lusaka calls on the Brothers again to help Zambian Medical Aid to open a 60-bed hospital in Lusaka, Malawi. So they do.

The Order in England becomes a registered charity.
Women become part of the nursing staff for the first time.

A ward for women is established at SJOG Hospital which was to be kept totally separate from the male wards and staffed entirely by women.

Queen Elizabeth the Queen Mother lays a foundation stone of the £500,000 rehabilitation unit which was to be named 'The Queen Elizabeth Silver Jubilee Wing'.

Permission is granted for the establishment of a noviciate at Saint Cuthbert's Hospital, saving the Brothers having to go to Ireland for training.

The Bishop of Monze call on the Brothers to take on a new work – a rehabilitation centre for children with physical disabilities.

The Brothers extend their services at SJOG Hospital with a unit for older people with psychiatric disorders.

The top floor of SJOG hospital is completely renovated to provide a nursing home with 33 rooms. A new operating theatre opened in the same year. And also this year, the first move from institutional care into smaller community living took place when residents from Saint Cuthbert's Hospital moved to Rockliffe Court in Hurworth. Purpose built by Hospitaller Housing Association, this provided residential and sheltered housing.

The 1990s saw a huge change with the Brothers seeking innovative ways to support people in less institutionalised setting, encouraging people to make their own decisions concerning their lifestyle for the first time.

Purpose built accommodation at Lindisfarne Court in Darlington becomes home to residents from Saint Cuthbert's and Saint Mary's unit.

150 residents of Barvin Park move into the community to live in self-supporting accommodation.
Residential care homes in North Yorkshire: Balmalclellan in Catterick, Brentwood in Leyburn and Portsdown in Colburn open.
Residential care homes in Durham and Tyneside: Eagle Cottages in Jarrow and White Lodge in South Shields open.
Supported Living Services in both Hatfield and Enfield open.
Dalby View in Coulby Newham following a large fundraising appeal open.
At the request of Bishop of Middlesbrough the Brothers open a pastoral centre in Hemlington to assume a 'pastoral presence' in the district.
Nursing homes in Clayton and Queensbury open

The Minims in Hatfield and Beach Road in South Shields, both residential care homes open.
Sandown Road, a residential care home and a Resource Centre open in Billingham.

A residential respite services opens in Luddendenfoot and Digswell Horticultural Training Centre in Welwyn Garden City opens.

Saint John of God Resource Centre 1998 in Enfield opens.

The Brothers move into Scotland for the first time taking over the management of St. Mary's Nursing Home in Barrhead.

A resettlement service in Hatfield opens – Mike Mably House.

Supported living in Scorton opens in the north, and in the south Woodhall Community Centre in Welwyn Garden city opens. In Bradford a new supporting living service begins.

West Lane nursing service opens and supported living services in Scotland begin following the closure of St Mary's nursing home. The Order begins religious management services.

SJOG Hospital in Scorton closes and Saint John of God Care Services (now called SJOG Hospitaller Services) is formed as a separate charity from the Order. The Brothers continued to embrace the need for change and further develop its mission of hospitality and meet unmet need.
On 1 January 2019, Saint John of God Hospitaller Services Group was formed across the UK and Ireland from 9 organisations founded by the Hospitaller Order of Saint John of God. For further information go to: https://www.sjog.ie/
In June 2022, the Hospitaller Order of Saint John of God celebrated its 450th anniversary – the anniversary John of God's followers were recognised as a brotherhood – a religious organisation. John of God had captivated and enthused his followers and they wanted the movement that he had initiated to continue.
The Order grew from its beginnings in Spain to a presence in over 50 countries and supporting millions of people.
An online exhibition to mark the anniversary provides a snapshot of the Order's history, together with its work in England from 1880.